Sly, Inc. is co-hosting Hosokawa's free, in-house demonstration on milling and material handling for chemical, food, pharmaceutical, and mineral applications. The event will be held on October 14 and October 15 (offered twice for convenience) at Hosokawa's Summit, New Jersey facility.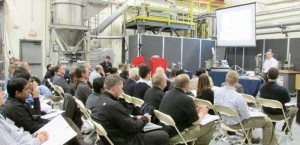 Sly, Inc. will demonstrate its TubeJet dust collectors with respect to their application as product receivers for milled products from Hosokawa's Mikro Pulverizer® Hammer Mill and Mikro ACM® Air Classifying Mills. Guests will have the opportunity to see first-hand how Sly's Tube-Jet dust collectors are customized for specific milling applications. Traditional fabric filter bags and pleated bags will be demonstrated in both top load and side load configurations.
During the "Fall Milling & Material Handling Expo", guests will have the opportunity to participate in live milling demonstrations and have hands-on access to system ancillary equipment including the Sly TubeJet dust collectors as well as feeders and pneumatic conveyors. The expo is being hosted by Hosokawa Micron Powder Systems, Coperion K-Tron & Sly, Inc.
Tags: News