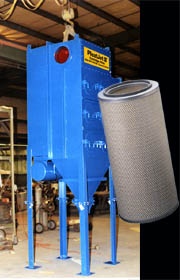 Pulse Jet Collectors
Ideal for applications that benefit from ease of bag changes and a no-tools system design. Different baghouse dust collector types offer a solution whether the dust collection application is high temperature, high pressure or of corrosive nature. These rugged systems are simple to install and come standard with timers, air headers and pulse valves. Considered Sly Inc's most versatile baghouse system, the TubeJet Pulse Jet Collector rises to the demands of even the highest vacuum applications.
Special features include:
Explosion protection
Custom hopper configurations
Temperature sensors
Internal Polishing
...to name a few
Cartridge Filter Collectors
For more uniform dust release and maximum energy release, clients choose the PleatJet II Horizontal Dust Collector, a cartridge filter collector. Loaded with standard features, it also completes more cleaning than conventional pulse systems with the Opti-Pulse Cartridge cleaning system. Maintenance is tool-free, with the quick release door mechanisms, and there are several available configurations, depending on your application.
Pulse Clean Collectors
Envelope Filter Collectors like the Sly Inc Patecon dust collector offer performance pollution control in a compact system. The envelope system can manage twice the volume of dust that tubular bags can, and are more energy efficient to clean. Other advantages include longer bag life and easy installation.
Shaker Collectors
For industries where intermittent exhaust is the standard, a shaker dust collector is ideal. Low filtering velocity means long bag life. Airflow is temporarily interrupted while the built up dust is shaken away, meaning hassle free maintenance. There are even timers for automatic shaking cycles. These economical and space efficient systems are a great option for operations where 4000 CFM is ample space and temperatures won't exceed 275 degrees Fahrenheit.
Tags: B.H.A.G. Blog