As anyone who operates a facility can tell you, complying with safety rules and requirements is not just a moral obligation, it's hugely important to company success.
Organizations like The National Fire Prevention Association (NFPA) and the government-run Occupational Health and Safety Association (OSHA) issue rules and guidelines for manufacturing equipment to ensure maximum workplace safety.
In some cases, your dust collection system will need to be inspected and upgraded to ensure compliance with these guidelines. In baghouses and dust collectors, there are a number of ways Sly can help you meet requirements and keep your workplace safe, healthy, and happy.
If you believe you may need a new dust collector, consult the following guidelines and opportunities for new equipment:
OSHA MANDATED CLEANUP
In compliance with OSHA rules, manufacturing processes that generate escaping dust will need to install some sort of dust collection equipment complete with hoods, dueling, fans, and auxiliary equipment.
Lucky for these manufacturers, Sly Inc. is standing by to point them in the right direction. Though compliance rests with the end user, our talented specialists can customize equipment that best suits your facility.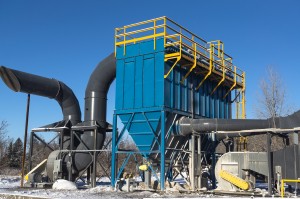 REPLACEMENT OF EXISTING OUTDOOR BAGHOUSES
To comply with NFPA-68 requirements, many baghouses will need to have explosion relief venting added if it is not already present on the collector.
If the unit is older, the most economical course of action is almost always to replace the existing unit with one up to safety standards.
BAGHOUSE ISOLATION DEVICES
Even if a baghouse has installed the aforeme
ntioned pressure relief or suppression equipment, isolation devices are also required to keep a deflagration confined to that baghouse location.
For dueling up to 8" in diameter, a fast-acting butterfly or slide gate type damper can be used. For larger dueling systems, chemical suppression devices may be used.
Either way, isolation should be installed upstream of baghouses (where flammable or explosive dusts are present) and downstream (unless the baghouse vents directly to the outdoors).
RELOCATION/REPLACEMENT OF EXISTING INDOOR BAGHOUSES
Baghouses located indoors will always need to be fitted with explosion relief or suppression equipment.
However, in some cases, the rework costs may be heavy. If this is so, it's best to either move the unit outdoors or replace it entirely. Consult a specialist at Sly Inc. for more information on the best option in this scenario.
If you believe your current collector does not need replacing, but may need a few compliance upgrades, consult the following guidelines:
ISOLATION MEANS TO CONTAIN A DEFLAGRATION
OSHA and NFPA both require that any deflagrations be isolated from the primary source to any connected equipment. This will create a requirement for fast-acting butterfly dampers, slide gate dampers, or flame suppression equipment.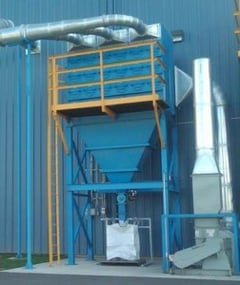 The amount and nature of this equipment will depend on duct size and location of the device with respect to the ignition source.
IN PLANT REVIEW/ANALYSIS OF PROTECTION REQUIREMENTS
Oftentimes, plants with current compliance equipment or a need for said equipment may not have the experienced personnel required to determine and ensure accordance with established rules.
In this case, Sly can provide personnel with the ability to provide "in-plant" reviews of process equipment, existing dust collection, ductwork, and other equipment. These qualified engineers will review the equipment and then make recommendations for modifications or additions to bring the plant into full compliance.
TESTING SERVICES FOR MATERIAL ANALYSIS
NFPA recommends all potential flammable or explosive materials be tested to determine their explosive characteristics. Sly can recommend reliable testing services for flammable or explosive materials to customers who inquire.
For more information on compliance laws or inspecting and upgrading your dust collection system, give Sly a call at 866-721-3545 and one of our knowledgeable representatives will help determine the best course of action for your facility.
Tags: dust collection system, dust collector, dust collector system, Blog, osha compliance