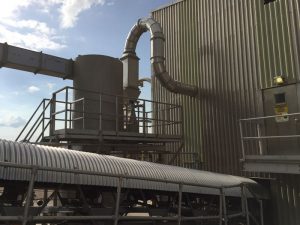 When evaluating quotes from wet scrubber manufacturers, it is best to watch out for a few important details and approaches. Not every quote is prepared with the same level of detail, so it becomes tough for an engineer or plant manager to lay them alongside each other and see an apples-to-apples comparison. Here are a few questions a fully prepared quote should answer, along with some other types of information you should look for in the quote.
Upfront Statements of Design Conditions
As you begin to compare one quote to another, make sure the quotes include all the key specifications they should with clear and detailed descriptions of a scrubber's design, installation and performance aspects. These include inlet gas flow rate, temperature, pressure and humidity, along with particulate size, required energy efficiency, regulatory compliance needs and the scrubber's location. Consider any coating or paint options as well that might be needed to withstand environmental conditions. Furthermore, if you are purchasing a particular kind of scrubber, such as a venturi, impingement, or packed-bed scrubber, make sure to ask about adjustable throats, differential pressure, or packing materials used.
Having all relevant specs readily available not only makes it easier to compare one wet scrubber to another, but it also allows customers to spot gimmicks or shortcuts that some manufacturers may take. Some wet scrubber manufacturers make claims of performance or price that cannot stand up to the fundamental laws of physics according to the principles of venturi scrubber design.
These gimmicks can include claims of ways to shorten inlets, throats or expanders on venturi scrubbers while retaining a certain pressure drop, or unrealistically downsizing a wet scrubber, or using a thinner gauge material in an attempt to reduce weight and cost. However, while such modifications may make a scrubber lighter or cheaper, they are guaranteed to short-change performance, no matter what the maker may claim. So be on the lookout for shortcuts that attempt to circumvent known best-practices.
Access to People Behind the Spec Sheet
When evaluating a quote, you're evaluating the company behind the quote, as well as the scrubber itself.
A good supplier of wet scrubbers goes beyond merely shipping you a product to install. They should also offer a knowledge base that customers can rely upon to answer questions in the field. This can come in the form of salespeople, engineers and managers who know how to troubleshoot and answer questions, along with whitepapers, videos, and other media offerings. These can be especially useful to ensure compliance with NFPA, EPA, or OSHA regulations.
Also, it should be easy to reach engineers and technical experts at your wet scrubber supplier during the quoting process, as you are sure to have questions. If they are hard to reach before the purchase, or if you have to go through a few layers of corporate bureaucracy before you can contact an applications engineer on the phone, it is hard to imagine that they will be easy to find for the support you'll need after the sale goes through.
Say, for example, that a customer has little prior experience in managing particulates, but they've determined, either through their own research or recommendation from a colleague, that they need a wet scrubber to handle dust. When they call for a wet scrubber quote, and all they can tell the supplier is "I have a dust problem," the supplier should begin to provide the customer access to tutorials, in-house experts and objective advice to help guide their selection.
Consider questions such as: is the provider pushing a wet scrubber solution because that is what you have asked for or because that is all they have? Instead, will they help you specify a dry dust collection system if that is what the situation warrants? Will they counsel you on some of your pressure or air flow calculations, if they think they are not likely to prove successful in the field? Can they show you installation and maintenance videos that give you an idea of how the unit will perform during and after installation? Do you need certain customizations to fit in a particularly tight space? Your wet scrubber supplier should be proactive in sharing with you a wealth of tutorial information during the quotation process to answer these and many other questions you might have.
Long Time, Repeat Customers
Some companies have customers that have used their wet scrubbers for years or even decades. Be on the lookout for these suppliers, because those are the systems you want! It is often helpful to ask for customer referrals so you can learn why they have stayed with the same vendor for so long. These customers can offer valuable insights and tips on why you should go with a quote from the company they chose.
Furthermore, frequent instances of repeat business indicate that the wet scrubber supplier has reliable, consistent processes that deliver what their customers need. These can include timely quote turnarounds, fast access to parts, easy procedures for troubleshooting, as well as access to knowledgeable people you'll want as partners.
If your potential wet scrubber vendor is slow or reluctant to provide those references, then that speaks volumes about the quality of their equipment and after-sales support.
The Quote Is More Than Just a Price Check
The process of building and evaluating a wet scrubber quote is best when it is a collaborative and organic back-and-forth process between the supplier and customer. This helps both parties select a solution—and a company—that is best suited to any application. Look for vendors who have clear and detailed design, installation, and performance specifications, have extensive tutorials and easy access to experts, and those who can point to a strong list of satisfied customers.
Tags: Blog, wet scrubber