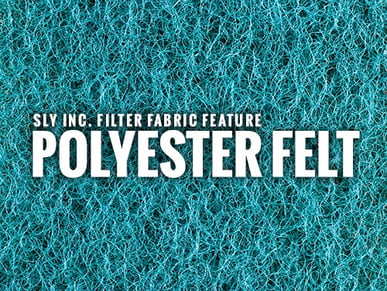 In the world of air filtration, no two products are equal. Here at Sly Inc., we take great pride in the high caliber of dust collection and air pollution control products we produce; but with our extensive variety comes a great range of options. We firmly believe that it's these options that allow us to offer an unmatched, customized product for the unique needs of the industrial manufacturing companies we serve. For each set of specifications, there's a perfect industrial dust collector, and for each collector, there are numerous options for filter bag fabric, each with unique qualities. To help our valued customers better understand what each filter fabric offers, our new Filter Fabric Feature blog series will explore the benefits of each material we use to fabricate our high-quality filters. This month, we're talking about Polyester Felt!
Never Felt Like This Before
Polyester Felt (PE) is the most commonly used and most cost effective filter felt used in modern pulse jet style baghouses. This versatile felt has an extensive variety of uses and applications ranging from cement plants to electric furnaces and everything in between. With a normal maximum continuous operating temperature of 275°F, polyester felt is comparable to homopolymer acrylic felt, and surpasses Nylon (Cerex®), propylene, and cotton woven filter media. With so many benefits, it makes sense that polyester felt is such a popular choice for filter bag applications!
The Stable, Superior, Synthetic
Featuring excellent dimensional stability, it's no surprise that polyester felt is the most common type of filter bag used today. Polyester is especially good for dry heat applications and is far superior to other synthetics with the exception of Nomex® (Aramid) and Teflon® in this regard. Conversely, a polyester felt filter isn't generally a good choice for moist heat since it's subject to hydrolytic degradation under certain sets of circumstances. Despite this slight drawback, polyester felt is available in numerous finishes which improve its performance for different requirements and applications.
Irresistible Resistance
Polyester filters have earned a great reputation for their superior resistance to chemicals, abrasion, and dry heat degradation. This impressive resistance extends to most mineral and organic acids with the exception of high concentrations of nitric, sulfuric, and carbolic acids. Additionally, polyester felt has good resistance to weak alkalis, and moderate resistance to strong alkalis at a low temperature. Polyester also has good resistance to most oxidizing agents and excellent resistance to most organic solvents. Despite having impressive resistance to so many chemicals, It is not recommended for some phenolic compounds. Oh well, nobody's perfect!
Hopefully we've helped to answer some of your questions about polyester felts, but If you're considering this popular synthetic material for your filter bag, feel free to contact us and ask more questions. We're happy to discuss the details of your unique application and discuss the numerous specialty polyester felts available. Contact us today!
Tags: air filter, dust collector, polyester felt, polyester felt filter, Blog