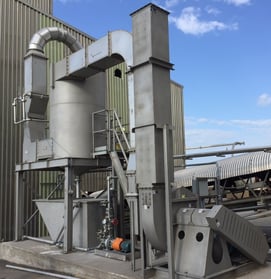 Budgeting for a wet scrubber system can seem like an overwhelming task when you install one only every few years. When building a budget for the project, not only do facilities engineers and operations staff have to consider the many equipment options available, but they also have to keep in mind their in-house engineering, installation and ongoing maintenance capabilities. There are some simple guidelines to follow that can help make it easier to establish the initial budget for the project.
Start With Other Examples
When calculating how much a wet scrubber solution will cost, you can start with the obvious question of initial installation cost by looking at similar systems in place. Ask your vendor questions such as: Where can I find an installation of a similar size, with similar particulates, in a similar or same industry as my application? What worked about those installations, and what did not? If the customer had to do it over again, how would they have specified their system differently?
If possible, find out what solutions were used to solve similar problems. Most manufacturers will have customer case histories they can share with you or references you can call yourself with questions you would like to ask.
It Is a Balancing Act
Sourcing a wet scrubber often means a back-and-forth discussion between you and the supplier. This is to be expected as there are so many variables to consider when going through various options, including venturi, packed-bed, or eductor venturi wet scrubbers. Each of these has their own considerations, such as throat diameters, bed-packing materials and high-pressure liquid choices, respectively.
When it comes to NFPA, EPA or OSHA regulations, these must always be considered along with the price. Wet scrubber systems come with many components and sub-systems. Often, customers consider their regulatory requirements and budgets only for one or two of them, say the scrubber itself and maybe some ductwork. That would be a critical mistake, however, as regulatory compliance affects many other elements in your system.
In fact, your scrubber isn't a single solution but an integrated system. As a result, ensure that your budget is a complete one, and all the core and ancillary costs you should account for:
Air quality monitors

Pump and fan control boxes

pH probes

Monitoring equipment including pressure gauges, airspeed sensors, humidity detectors, and temperature monitors

Water flow, pressure, and quality sensors

Storage tanks, recirculating tanks, and recirculating pumps

Input and exhaust fans

Water supply piping, and recirculating piping

Mist eliminators

Input and exhaust ductwork

Loading spouts

Paints, finishes, and coatings

High-pressure liquid choice

Access doors
Sometimes customers are surprised to consider this comprehensive list of items on their budget. It just means there's more to consider when building your budget than the scrubber unit itself as the only cost. So, an itemized breakdown of the cost can help you understand what you are budgeting for. It can also assist in determining what to pay a vendor for and what to develop in-house.
Consider More Than Initial Purchase Dollars
As mentioned, there are many variables to consider when budgeting for your new wet scrubber installation. Although it may not appear on your budget as a particular "hard-cost" line item alongside ductwork, fans or other components, don't forget to consider your internal time and any outsourced vendor support needed.
If you are unaccustomed to wet scrubber system installations, you may do better by budgeting for a "plug-and-play" system designed and installed by your vendor. A turnkey system approach avoids the cost of in-house engineering and can often eliminate unexpected elements to the project that weren't envisioned at the start.
Larger companies with on-staff facilities engineering teams or enterprises that are familiar with wet scrubber systems may find savings if they source the scrubber and then handle system design for other components, like tanks and instruments, themselves.
Manufacturers can also include complementary—but required—items not listed in their price that you should purchase elsewhere. These can include aspects such as field welding or assembly, foundations, motor starters, testing setups, access ladders and more.
In additional to the initial purchase price, remember to keep in mind ongoing maintenance expenses. Whatever type of system you're selecting, from whatever manufacturer, every system requires ongoing maintenance, energy consumption, cleaning/inspections and parts, so Total Cost of Ownership over the life of the unit is important to consider in your budget.
Building a Total Budget
Budgeting is a thorough, nuanced process that requires some flexibility, attention to detail and advanced planning. Considering all the variables involved—associated components, the cost tradeoffs of turnkey vs. in-house-designed systems, and the difference between initial purchase price and total cost of ownership—will help you create a complete and accurate understanding of the true costs of a wet scrubber system.
Tags: wet scrubber