In 2015, Mercury Capture Systems (MCS) in Newtown, CT installed a proprietary process system for naturally reducing mercury gas in cement kiln exhausts. A Sly Inc. Impinjet® wet scrubber is an integral part of this process.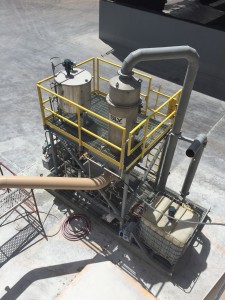 The Impinjet® scrubber is the best choice for mercury removal in this case because it provides efficient mass transfer capability using Mercury Capture Systems proprietary chemical reagent process, at an economical price.
The partnership between Mercury Capture Systems and Sly Inc. is one where everyone wins, especially cement manufacturers in need of a cost-effective means to reduce mercury in the kiln exhaust. Not only is the MCS process safer and more efficient, it reduces the cost of their mercury emissions removal.
Sly Inc. publishes a number of air pollution control case studies. For more information on this particular study, contact Mercury Capture Systems or click here to read the article synopsis by Chris Poling of SBC International.
Tags: Blog, wet scrubber