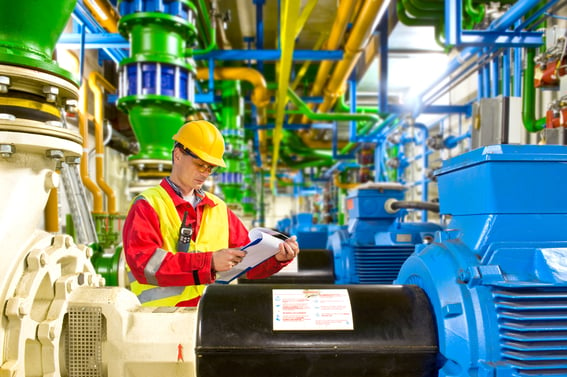 As the temperature begins to get cooler and the days start getting shorter, there's no denying that Fall is on its way. For many, Fall marks the beginning of the busiest season of the year, when kids go back to school, and those of us in the manufacturing industry begin our push to make the months of September, October, and November lucrative before winter arrives. While summer is still here, why not use these tips to prepare your industrial manufacturing facility for its best fall yet!
Take Inventory & Stock Up
There's nothing that can impede productivity and output like discovering that you're out of a component or material you need to fulfill incoming orders. Waiting on back-ordered shipments to arrive can hold up your productivity and result in unsatisfied customers. Why not take the last few days of summer to take inventory of everything you might need and place orders for what you're running low on. Starting off the fall with a full stock will give you peace of mind and help your business stick to its commitment to fast turn around times.
Step Up The Safety
Nothing is worse than illness or injury in the workplace, especially when most that occur could have easily been prevented! Don't let your company fall victim to the decreased morale and output caused by illness or injury. Instead, take measures to improve the cleanliness and safety of your facility. Begin by making cleanliness an initiative if it isn't already. Reward workers for keeping a tidy workspace and make vacuuming a daily task to ensure that the floor doesn't become a hazard. Don't forget about the most important part of manufacturing facility safety; air quality! Check your dust collection system regularly and be sure to keep a back stock of dust collector replacement bags. Remember, the cleaner the air, the healthier and more energetic your workers will be, yielding improved morale and increased production speed.
Update SOPs
A change in season can be a great opportunity for a change of policies. Begin by gathering your workers and starting a discussion about which SOPs are working, and which might need some updates. When you give your workers the opportunity to share their ideas for improved operating procedures, you'll be surprised by the valuable information you get. If your team doesn't enjoy public speaking, print your question on a large sheet of paper, leave out pencils and paper, and put out a box for them to leave their anonymous comments in. Use the feedback in developing new guidelines for the upcoming season. Let your team know that you used their ideas and they'll be much more likely to accept and appreciate the new practices.
Whether or not fall is your busy season, these easy tips will help you get the most from the months between summer and winter. With increased focus on inventory, safety, and SOPs, this may be your company's best fall yet!
Tags: dust collector, dust collector replacement bags, fall productivity tips, Blog, industrial dust collector