Did you know Sly has a full, in-house engineering team of design experts?
It's true! Not only is our team amazing, they're absolutely necessary. We make dust collection look easy, but there are numerous design considerations that go into creating our equipment. When our engineers are at work, they use physics to make the best possible, high-functioning collectors.
Take our venturi wet scrubbers, for example. Everything from the inlet to the expander is designed taking physics into consideration. Just a few centimeters off, and the venturi can't produce the results we guarantee.
To learn more about using physics to design and test venturi wet scrubbers, please click the image below to view our latest white paper, "Venturi Scrubbers, Physics & The Big Bang Theory," written by Sly's own scrubber expert, Dwayne Sanders.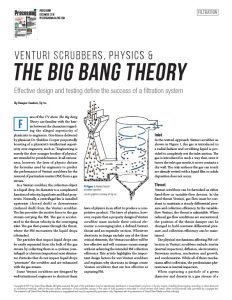 This article was originally published in the December 2016 issue of Processing Magazine. Thank you to the staff at Processing for allowing us to repost it here.
Tags: Blog