Uncontrolled dust is a danger to your business. Not only are pollutants like dust and airborne dirt a threat to the safety of your workers, but they can also lead to issues and defects with your products. If things get bad enough, they can even cause equipment malfunctions and plant-wide shutdowns. It's simple – when your facility isn't running, you're not making money. That's why you need a means of air quality control, like a baghouse.
What is a Baghouse?
A tried-and-true system for cleaner air, the humble baghouse is an air pollution control (APC) device used to filter out dust and other particulates from an airstream. Also known as a dry dust collector, baghouses are a type of fabric filtration system that uses bags made with special types of filter media to collect and dispose of circulating dust within your environment. Baghouses begin working when dust-laden air enters the inlet of the collector and is drawn through the bags. Dust will get trapped on the filter media, forming a layer of dust on the filter's surface. Periodically the media is cleaned using automatic pulses of compressed air to maintain constant resistance through the bags (pressure drop) so ventilation is kept constant at the dust source without shutting down the system.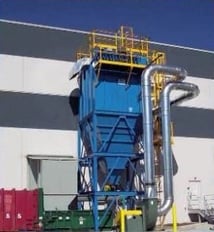 How Do Baghouse Filters Reduce Air Pollution?
Baghouses are the backbone of industrial air quality control due to their high collection efficiencies. They generally have a collection efficiency of 99% or better, no matter the size of the particulate. With these high efficiencies, baghouses can get rid of the harmful dust in your facility while using the least amount of energy. Their bag filters are also typically very durable and have long service lives.
Types of Baghouses
There are two main types of baghouses that Sly works with square/rectangular collectors and cylindrical collectors. Easy to install, square collectors have rugged construction for the most demanding and harsh applications. Cylindrical collectors are designed for demanding process system use, benefiting from the superior cleanability and easy dust discharge that only a cylindrical design can bring. Their round walls also eliminate condensation and "cold spots" in applications with extreme temperatures.

No matter which type you choose, baghouses are particularly great for:
High-temperature applications


Sticky or wet particulate

Heavy dust loads

Small or large particulate

Cartridge Collectors: Another Type of Dry Dust Collector
Baghouses can also be used for smaller particulate and lighter dust loads, but you may want to use a cartridge collector in those instances. Cartridge collectors are another type of dry dust collector, using high-efficiency filter media cartridges instead of bags.

Cartridge collectors typically come in vertical or horizontal cartridge designs. With side cartridge removal, low headroom requirements, and excellent energy savings, cartridge filters can be used on many industrial processes to control dust emissions.

The following matrix shows when to choose a cartridge collector over a baghouse.
| | | |
| --- | --- | --- |
| Condition  | Baghouse  | Cartridge  |
| High temperature applications | ✓  |   |
| Sticky or wet particulate   | ✓  |   |
| Dry dust | | ✓  |
| Light dust load   |   | ✓  |
| Heavy dust load  | ✓  |   |
| Small particulate   |   | ✓  |
| Large particulate   | ✓  |   |
Better Baghouses and Cartridge Collectors with Sly
With over 150 years of experience in air quality control, Sly is an expert on dry dust collectors. In fact, we hold the very first patent for the cloth type dust collector, issued in 1902. This experience means better dust collectors and better air quality control for your business.

As an OEM, Sly has the design flexibility that other manufacturers simply can't match. By not outsourcing our manufacturing, we can produce a wide range of reliable baghouses and industrial dust collectors custom-made for every application.

That customizability is important because every application is unique. We never mass-produce a baghouse and hope for the best. With our team of expert engineers (many of which whom have spent their careers in the dust collection industry), we always make sure that our solution fits your unique needs – all while maintaining a price point comparable to mass-produced equipment.

If you want to learn more about Sly's offerings and our custom dust collectors, contact us or request a quote today.