A wet scrubber is a mechanical system that removes pollutants from an air stream by bringing it in contact with a scrubbing liquid, most often water. Wet scrubbers are generally the only single air pollution control device that can remove both particulates and gases/vapors. They are highly efficient at capturing the smallest dust particles and can eliminate more than 99% of airborne particulate matter by capturing them in liquid droplets. Wet scrubbers that remove gaseous pollutants are also referred to as absorbers.
Wet scrubbers are used in a wide range of industries, from acid, fertilizer and asphalt plants to steel mills and power plants. They offer an alternative to baghouses and other dry dust collection approaches; they're often used for controlling exhaust from process equipment or they can be located downstream from baghouses/cartridge filter systems, furnaces, dryers, mixers, bucket elevators, bagging stations, and other emission points.
How wet scrubbers work
The four most commonly used types of wet scrubbers are Impinjet® wet scrubbers, venturi scrubbers, eductor venturi scrubbers and packed towers:
Wet scrubber applications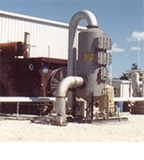 Applications for wet scrubbers typically fall into one or more of four categories:
Combustible/hazardous dusts often call for wet scrubbers because they can effectively minimize the risk factors for a dust explosion. However, wet scrubbers are not appropriate for handling all dust types; some dusts (such as alkali metals like lithium, sodium and potassium and alkaline earth metals like beryllium, magnesium and calcium) are actually water reactive, which means they're more hazardous when they come in contact with water.
Moisture in the gas stream

will foul or plug a dry dust collector and cause caking on the filter bags, but a wet scrubber can handle it without problems. Given that the scrubber uses water or another scrubbing liquid to saturate the gas stream for particulate removal, moist process gas is no problem.
High-temperature applications represent another area where wet scrubbers offer a good solution. Unlike dry collectors, which require special high-temperature design and construction methods and expensive high-temperature filter bags, standard wet scrubbers can handle high process temperatures without these added costs. Because adding water into the system does not affect scrubber operation, quench systems can be employed prior to the inlet to the scrubber. A scrubber design that includes a pre-quench section can handle temperatures higher than 2,000°F.


The combination of particulate and gaseous contaminants is particularly problematic for dry collectors because they can only address the solid particulates; a secondary piece of equipment, such as a scrubber, is also needed to remove the gases. In contrast, many types of wet scrubbers can collect both solid and gaseous components from the waste stream with just one piece of equipment.
To learn more about how a wet scrubber can boost your dust, vapor, and gas collection efficiency and save you money, download a free copy of Sly's Wet Scrubber Application Guide. If you need advice on choosing the right scrubber design type for your process, contact the Sly sales representative nearest you.
Tags: wet scrubber